Battery
Application
Hot product
Contact us
UL2054 certified 12V 4Ah 18650 lithium battery pack
2021-06-24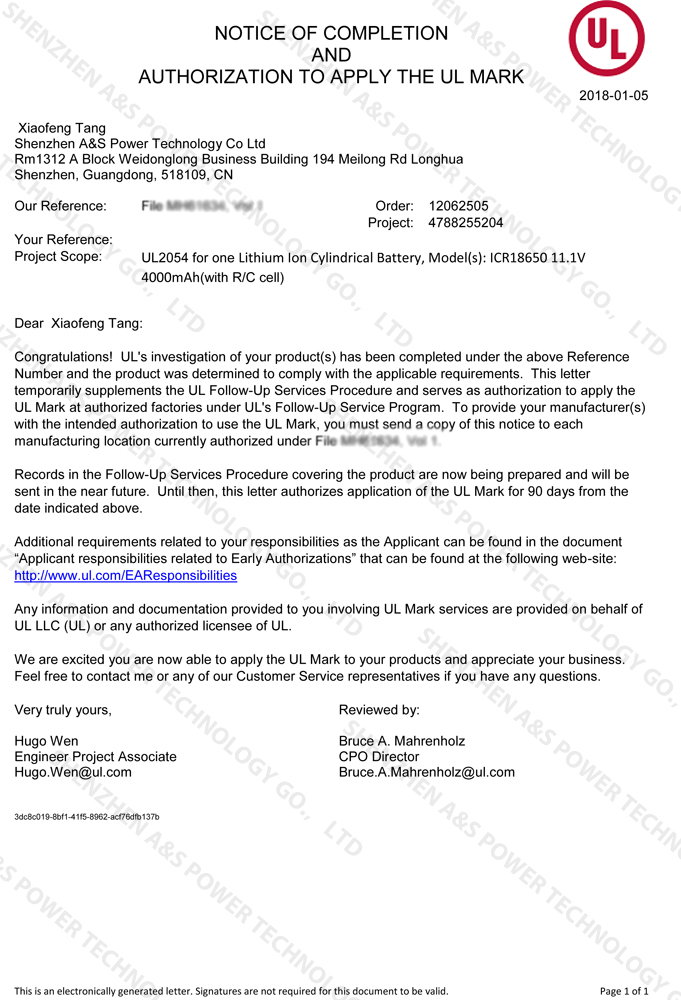 A&S Power 12V 4Ah 18650 lithium battery passed UL2054 authorized by UL American company.
This certificate proved that A&S power provide high-quality and safety lithium battery pack for all partners.
Several month ago, we had get an inquiry from A famous American clients who want decorate their own shopping mall. Approximately 20K 12V 4Ah and 10K 50Ah 18650 battery pack for different led light.
As this is our first time cooperate with each other, we start from the smaller on 12V 4Ah li ion battery pack.
A&S power's professional engineers team design the lithium battery pack's dimension and PCM for our clients. Before samples A&S power will provide lithium battery datasheet to clients to get their approve. Samples tesing is very succesfull and then we start from a PP order, and then we make the UL certificate for our client.
Due to the UL certificate, A&S power had expand lots of many other American and Europe clients who main focused in solar system. It also helping our customers to make their products more compeititve and expand the market, creating higher profit.
Warmly welcome to consult A&S power, lithium battery customized service can be provided.A&S power will be your good and reliable partner for the li ion /lithium/lifepo4 battery packs.