Battery
Application
Hot product
Contact us
2019 Lithium-ion battery price survey
2021-07-02
The global Lithium-ion battery price survey in 2019 found that the average price of lithium-ion battery packs was $ 156 / kWh, which was similar to the price we predicted a year ago. This year, we conducted research on new energy passenger vehicles, electric buses and commercial electric vehicles, energy storage and other market segments, and collected more than 100 sample points. Prices this year are down 13% from last year.
Battery pack price (2019 $ / kWh)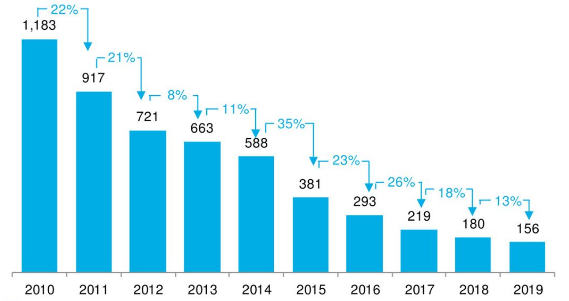 Battery prices continue to decline in 2019, mainly due to the increase in the scale of orders, the increase in sales of pure electric vehicles, the adoption of new battery designs, and the emergence of high-energy density battery anode materials. In addition, the introduction of new battery pack structural designs and lower production costs will drive battery prices to continue to decline in the near future.


In this price survey, the lowest-priced battery pack sample comes from China, only $ 127 / kWh. The average price of battery packs produced in China is 146 USD / kWh, which is also the lowest in the world. Nevertheless, the average cost of a battery pack in the US market is $ 149 / kWh, which is only $ 3 higher.


According to information provided by respondents, nickel-manganese-cobalt ternary (NMC) batteries are the most common type of Lithium-ion batteries, but their average price is $ 163 / kWh, making them the most expensive battery type. The price range of NMC batteries is also the largest. The price per kWh ranges from $ 150 / kWh to $ 600 / kWh. This also reflects the diversity of NMC battery systems, different material ratios, and application scenarios. difference.


By 2024, the average battery pack price is expected to drop to $ 93 / kWh, and by 2030 it will drop to $ 61 / kWh.
A set of data
$ 156 / kWh
2019 average Lithium-ion battery pack prices

$ 730 billion
Market value of Lithium-ion battery market by 2030

$ 147 / kWh
The average price of pure electric vehicle battery packs in 2019