Battery
Application
Hot product
Contact us
Electronic product certification in the world
2021-07-02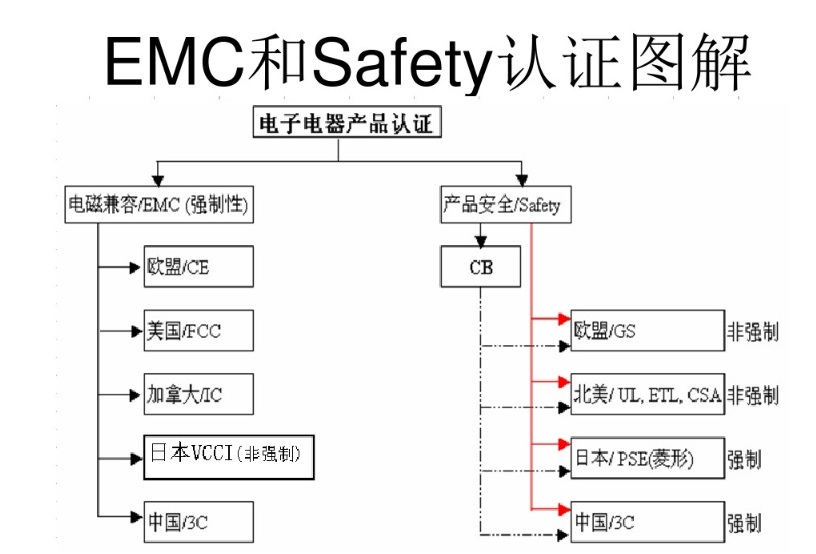 Electromagnetic compatibility certification
Electromagnetic Compatibility
-EMC( Electro Magnetic Compatibility)
Refers to the ability of equipment and systems to operate in their electromagnetic environment without causing unacceptable electromagnetic interference to any other equipment in their environment.
-EMI+EMS
EMI: Electromagnetic Interference
EMS: Electromagnetic Susceptibility
Electromagnetic certification in major countries
CE certification in the EU market
Certification Acts and Marks
-Electronic motor products must comply with the following EU Directives:
2004/108/EC (EMC Directive) - for all electronic products
2006/95/EC (LVD Directive) - for electronic products with voltages of 50-1000V AC or 75-1500v DC
-Mark minimum height requirement 5mm
US FCC certification
FCC certification is a mandatory US EMC certification, mainly for 9K-3000GHZ electronic and electrical products.
Japan VCCI
VCCI is Japan's EMC certification and is not mandatory, but products are sold in Japan and are generally required to be VCCI certified.
C-Tick certification in Australia and New Zealand
C-Tick certification is an electromagnetic compatibility part of Australia, regulated by the Australian Communications Authority(ACA)
Canadian IC Certification
IC is a certification of EMC (Compulsory Certification) that must be passed by Canadian law to import electronic products.
Product safety certification
IEC is the English abbreviation of the International Electrotechnical Commission. It is a non-governmental international organization. It was established in 1906 and is the earliest professional international standardization organization in the world. It is responsible for the international standardization work in the field of electricians and electronics.
Safety certification in major countries
GS certification in the EU market
GS is not mandatory, but it is widely recognized by consumers and businesses. In the German market, if the goods sold do not meet the GS requirements, it will be difficult to sell in Germany, and most countries in Europe recognize it.
American UL.
The UL Safety Laboratory is the most authoritative in the United States and the largest private institution in the world for safety testing and identification.
UL is a voluntary safety certification. In the North American market, consumers accept and recognize UL marks, and there is generally no product range that specifies UL certification.
US ETL certification
ETL(Electrical Testing Laboratories) is the abbreviation of the American Electronic Laboratory.
Any electrical and electronic, mechanical and electrical products with ETL mark indicate that this product meets US and Canadian product safety standards.
Canadian CSA Certification
CSA: Abbreviation for Canadian Standards Association
Products such as electronics and electrical appliances sold in the North American market, which recognize CSA safety certification, are voluntary.
China CCC Certification
China Compulsory Product Certification referred to as CCC certification or 3C certification